Light
Showing all 2 results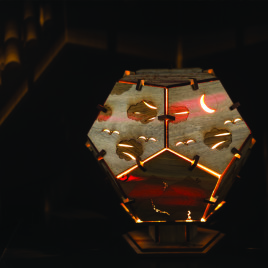 Children's Nightlight
Light your child's space with a soft, warm glow. Watch them become mesmerized by the moon, birds and stars that project across their room. Made from Beetlekill Pine, this lamp has all the constellations on the top panel surrounded by clouds, moon and birds above a backdrop of hills complete with miniature sheep grazing in the pastures. This unique lamp is sure to delight children and adults alike! The unfinished pine wood used for this lamp releases a soft pine scent as the lamp warms up. The lighter parts of the wood will glow with a warm orange hue, while knots will light up with a fiery effect.  No two pieces of wood are exactly alike, so no two lamps will identical either.
$

185.00
Add to cart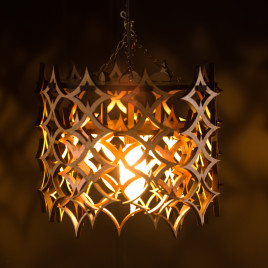 Barrel Cactus Pendant Light
Laser cut from up-cycled 3/16"-1/4" composite board with wood veneer. This unique pendant lamp has patterns inspired by nature.  Designed from elements of a Barrel Cactus geometric abstraction, this light holds true to the prickly nature of cacti and is sure to spark conversation! Held together entirely by laser cut components, this lamp assembles with no glue. It ships in parts with step by step instructions for assembly. The hanging elements can be re-arranged to suit your own taste, or just to switch things up every once in awhile.
$

85.00
Select options